Database inquiries
Computer Aided Dispatch
Report writing
Mapping / Positioning
Order input and delivery
Invoice input and triggering
Instant messaging
Wireless Intranet, Internet and corporate e-mail access
Database access
Docking station
GPS
Keyboard
Printer
Charger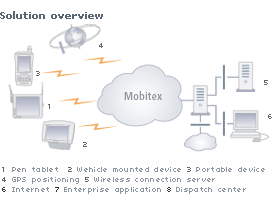 Whether you are in the fast moving consumer goods industry or a business that sells and delivers products to regular customers on a recurring basis, the pressure to perform is high. On any given day, you may have many delivery drivers, field service technicians or route sales representatives on the road making deliveries, providing service or selling to your customers. If your organization relies on a mobile workforce for direct store delivery route accounting or field service, the ability to collect and use real-time information provides a strategic advantage over your competitors.
Extending solutions across the supply chain with wireless and mobile computing devices empowers your team at the point of activity, improving efficiency and productivity. Equipping your mobile workers with an intuitive, feature-rich wireless solution offers enhanced on-site access to customer records, product details and ordering information for your field teams. They will benefit from the ability to get the real-time information they need, when they need it. These systems allow mobile workers to produce and print invoices at the customer site, download technical diagrams, request on-line help and perform other time-critical activities, resulting in improved customer service. Marketing, sales or operations management can analyse delivery processes, monitor order entry and delivery progress, track product returns, manage inventory and provide up-to-the minute marketing offers with ease and efficiency throughout the business day - whenever the analysis is most useful.
Mobitex offers end-to-end solutions and turnkey applications for field sales and service organizations. Based on industry standards and using off-the-shelf components wherever possible, these solutions have been designed to provide the computer-aided dispatch, database access and real-time order processing functions that are essential for efficient field sales and service operations. Terminals are typically handheld or portable PCs that also provide wireless email and standard desktop applications, but purpose-built terminals designed for vehicle mounting and easy operation while driving are also available from many suppliers.