More news and articles around the Mobitex industry can be found on the Mobitex Association portal www.mobitex.org
New sales partner in Indonesia
Gothenburg, Sweden – December , 2008
Mobitex Technology has signed a sales partner agreement with Tricoda Intersiscom. Tricoda Intersiscom PT is an Indonesian specialist in integration of various computer based communication and control systems, focusing on government, military, private and industrial sectors. Using Mobitex, Tricoda Intersiscom will be able to extend superior value to a vast array of customers in the Indonesian market. The stability of Mobitex networks will provide an important addition to Tricoda Intersiscom's current range of services.

Read more
Velocita new owner of SkyTel
Gothenburg, Sweden – June , 2008
Velocita Wireless, LLC, a wholly-owned subsidiary of United Wireless Holdings, Inc. and a leading supplier of wireless network data services for machine-to-machine (M2M) solutions, announced today the close of its agreement with Bell Industries to purchase SkyTel.

Read more
Mobitex Technology acquires Wavenet
Gothenburg, Sweden – March , 2008
Mobitex Technology is pleased to announce that it has entered into an agreement to acquire Wavenet Technology Pty Limited (Wavenet), a leading provider of wireless data solutions for mobile and fixed applications, in a move which ensures the continued successful supply and distribution of modems for the global Mobitex market.

Read more
Wavenet wins modem bid
Gothenburg, Sweden – January , 2008
Mobitex Technology AB has placed a 1.6M AUD modem order with Wavenet, in order to meet the imminent demand on the Chinese Mobitex market. Wavenet will also produce a new line of Mobitex products particularly tailored to meet the needs of the electric power market in China and the Wavenet BM3 OEM modem will now be an integral part of this offering. Wavenet BM3 technology was selected against significant international competition due to its excellent reputation in the market for reliability, compactness, On-Board Application (OBA) capability and cost.

Read more
Breaking ground in China
Gothenburg, Sweden – December 11, 2007
Mobitex Technology AB today announced the opening of a new Representative Office in Beijing, which will be responsible for selling and supporting the Mobitex technology throughout East Asia. The office will also produce a new line of Mobitex products particularly tailored to meet the needs of the electric power market in China.

Read more
RAM Netherlands adopts new switching platform
Gothenburg, Sweden – December 4, 2007
The Software Switch, which is the latest Mobitex product to be released in to the market, combines the reliability of the old MX unit with enhanced switching capacity. Running on a standard Sun Solaris platform, this latest Mobitex innovation ensures that configuration flexibility and monitoring functionality are mapped to the needs of the 21 century operator.

Read more
United Wireless Acquires Velocita Wireless, L.P.
Woodbridge, NJ – July 2, 2007
United Wireless Holdings, Inc. announced today that it has acquired Velocita Wireless, L.P., an indirect subsidiary of Sprint Nextel Corp. (NYSE: S), in a merger transaction. Commenting on the acquisition, Andrew Fitton the President of United Wireless said: "This acquisition reinforces the position of Mobitex networks in the world. We will be investing in the network to provide even better services to the existing customers and the target markets."

Read more
Mobitex Technology Wins Important Network Contract in Mexico
Gothenburg, May 14, 2007
Mobitex Technology AB has been awarded a contract by Comunicaciones Nacionales Troncalizadas, SA de CV (CONATRON), a wireless service provider and network operator in Mexico, to supply and build a Mobitex® network to cover Mexico City and its suburbs. The Mobitex® network will enable CONATRON to offer wireless services to users with very high demands on security and reliability, such as EFT/POS operations and Public Safety organizations.

Read more
Mowic makes powerful investments for long-term network operation
Gothenburg, November 13, 2006
The Swedish network operator, Mowic AB, has signed an agreement with Mobitex Technology AB to extend and expand the system support of their wireless data network – Mowic Nät. The agreement also includes enhanced redundancy, upgrade to the latest systems release and the latest generation of the software-based network switch.

Read more
Agrani and Mobitex Announce Partnership
in India
Gothenburg, October 16, 2006
Agrani Telecom Ltd. (ATL), a trans-national enterprise and part of the ESSEL Group, specialising in telecommunications services and security products and solutions, and Mobitex Technology AB, manufacturer and supplier of wireless networks, have signed an agreement to collaborate in bringing the wireless data network Mobitex® to the Indian market.

Mobitex® provides an extremely high level of reliability, which enables Agrani to offer a new type of services to businesses with high demands on safe and secure communication.

Read more
Celebrating 20 years of innovation!
Gothenburg, October 3, 2006
11.59 am on October 3rd 1986, the first wireless digital message was transmitted across the world's first Mobitex™ network.

This historic moment took place in Gothenburg, home town of Mobitex™, in a time where few people would recognize the term e-mail, and only living beings could suffer from virus attacks.

Read more
Damovo and Mobitex Announce Partnership in Poland
Warsaw, January 11, 2006
Damovo Poland, global services enterprise specializing in corporate communication in areas such as IP Telephony, VOIP, Converge Networks of Voice and Data and Managed Services, and Mobitex Technology AB, manufacturer and supplier of wireless networks, have signed a partnership to collaborate in the Poland market. This month Damovo will start to provide and implement the total portfolio of products and services from Mobitex Technology AB to the corporate Polish market.

Full version of the press release (PDF)
Mobitex™ selected as provider of wireless connectivity for buses in Santiago, Chile.
Gothenburg, Sweden, November 21, 2005
Mobitex Technology and Interexport Telecomunications have signed a contract for a major expansion of Mobilink's Mobitex network. Mobitex Technology will deliver enhanced wireless infrastructure to enable communication with all buses in Santiago. The contract is part of the large and prestigious TranSantiago integrated public transport project promoted by the Ministry of Transportation in Chile.

Full version of the press release (PDF)
Mobitex Technology AB appoints new Managing Director
Gothenburg, Sweden, September 1, 2005
| | |
| --- | --- |
| With effect from 1st September 2005 Göran Rydén, who has for the past two years been responsible for developing and implementing the Channel Sales strategy will become Managing Director of Mobitex Technology AB. Prior to that time Göran held several senior positions within Ericsson, including Vice General Manager EHPT Brazil, Global Sales Manager EHPT and Business Manager at Ericsson Telecom. | |
North China Electric Power University (NCEPU) and Mobitex Technology AB establish Wireless Communication Laboratory in Beijing
US, August 29, 2005
North China Electric Power University (NCEPU) and Mobitex Technology AB have joined forces to establish a "Mobitex Wireless Communication Laboratory" at the NCEPU campus in Beijing, P.R. China to support the rapidly expanding Electric Power Industry in China. This project forms part of Mobitex Technology's long-term strategy to enhance its offerings of "application driven" private networks where secure communication is essential.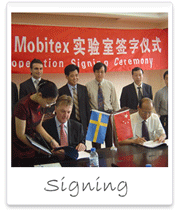 Damovo and Mobitex announce partnership in Brazil
Brazil, January 21, 2005
Damovo do Brasil enters into agreement with Mobitex Technology to supply Mobitex networks in Brazil.
Full version of the press release (PDF)
Mobitex enhanced for private networks
Gothenburg Sweden, September 20th 2004:
Full version of the press release (Word)
Full version of the press release (PDF)

Article: Mobitex gains independence
Gothenburg Sweden, May 2004,
Full version of the article (PDF)
Mobitex Wireless Data Division aquired from Ericsson
Gothenburg Sweden, May 24th 2004,
Full version of the press release (Word)
Full version of the press release (PDF)

Contact
Åsa Burke, Marketing Executive, Mobitex Technology AB
asa.burke@mobitex.com
www.mobitex.com
Logotype
Click below to download logotype for use in related press articles.
Download corporate logotype
About Mobitex Technology AB:
Mobitex Technology AB designs, supplies and supports wireless packet switched data networks using the unique Mobitexä technology which is the world leading system for dedicated wireless data. Mobitex has a number of key advantages when compared with traditional cellular technologies - it provides a highly secure environment, the highest levels of reliability, faster data delivery and extensive seamless coverage. There are now over 30 private and public networks worldwide and around 100 government and emergency services organisations that use Mobitex, as do 400 of the Fortune 1000 companies. Other key sectors for Mobitex are Transport and Machine-to-Machine communication (M2M). The largest Mobitex network is operated by Cingular Wireless and covers the whole of the USA. In Europe the UK national network operated by Transcomm has recently been acquired by BT plc. Dedicated private networks constitute a growing opportunity for Mobitex. Please visit our website at www.mobitex.com.
About the owners:
Mobitex Technology AB is backed by UK investors and supported by Handelsbanken, the Swedish banking group. Amongst its major shareholders are Andrew C Fitton, the former Chief Executive of the UK Mobitex network operator Transcomm plc, also the former President of the worldwide Mobitex Association, and Russell Backhouse, the former Finance Director of Transcomm plc.