Corporate email
MS Exchange contacts, calendar, etc.
Sales force automation
Field force automation
Customer relationship marketing
Enterprise resource planning
Supply chain management
Database access
Real-time Internet access
Real-time Intranet access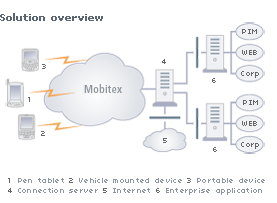 Mobitex offers end-to-end solutions for mobile professionals who need to always be connected and always available while out of the office. Based on industry standards and using off-the-shelf components wherever possible, these solutions have been designed to meet the specific requirements of mobile professionals. These solutions support a wide range of end-user devices from wireless PDAs and messaging devices to standard Pocket PCs and laptops.
Mobile office applications bridge the gap between valuable knowledge workers, who are constantly on the go, and the company information they need to do their jobs effectively. Communication should not stop just because you are away from your desk. While impossible to be in two places at once, Mobitex ensures that mobile professionals are never out of touch. Instead, they remain connected with secure wireless access to email, corporate data, phone, web and organizer features wherever they are.
Because it is packet-switched, the Mobitex network is always available and instantly accessible and devices are always online and ready to receive data or send notifications. There are no time-consuming call setup or data activation procedures, and there are never any busy signals. Response times are short (typically 3-9 sec.) and access is instantaneous. Because packet switching does not require a dedicated connection, users pay only for the volume of data transmitted, not for the connection time, meaning that devices can remain online at all times, sending and receiving data as required by the application. This permits maximum utilization of network resources.
The Mobitex subscriber base has tripled to one million during the past three years. In the US, which is the world's largest Mobitex market, the fastest-growing application is wireless email for professional users. This makes Cingular Interactive's email service one of the industry's two most successful wireless data applications with only the much publicized I-mode service in Japan having more subscribers.
Mobitex's reputation for being reliable and robust is one important reason behind its successs, but there are other compelling features. The battery-saving function added to the Mobitex protocol several years ago has been very important for the technology's success. This feature enables Mobitex-based PDAs to outperform and outrun all other wirelessly enabled devices.