BRU1 Mobitex Indoor Base Station

The Mobitex BRU1 is a low cost single channel, low power radio base station. It is scalable in terms of number of subscriptions and provides coverage for up to 500 mobile terminals within a limited area, such as office buildings, shops, workshops, theatres and sport arenas.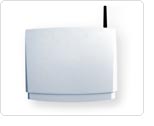 The BRU1 base station is designed for indoor operation with simple wall mounted installation and has an integrated Rx/Tx antenna. The BRU1 makes it possible to install a base station in a more cost effective manner, by reducing site costs. Site costs can be reduced since the BRU1 can be mounted directly on the wall, has an integrated antenna and is powered by a standard AC/DC converter.
Download datasheet BRU1
Email marketing and sales department